By Magda Ballentine MChiro CCEP MSports Science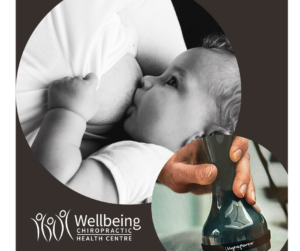 One day we had a call from a lady enquiring about using Lightforce Deep Tissue Laser therapy to help relieve sore nipples due to breast feeding, she had been told about several studies showing good results and wanted to try this for herself. Although laser has many benefits for a variety of acute and chronic conditions, this was a first for us to be asked about treating this area. She had two sessions and stated that she felt immediate relief, based on this she started to spread the word to friends suffering from similar symptoms.
Studies show that low level laser therapy is beneficial for the treatment of painful nipples, it was considered effective for nipple lesions in breastfeeding women with pain, providing relief and prolonging exclusive breastfeeding (1).
If you are suffering with cracked sore nipples and would like to get quick and affordable help, then do not hesitate to contact us. Your first appointment would take approx. 10-15 minutes, we would ask you questions about your symptoms and ensure there are no contraindications present. The treatment time would be 4-6 minutes, we use a low-level intensity of 2-3 Watts, this would be a non-contact treatment, so no contact would be required on the skin due to the sensitivity of this area, but most importantly it is completely painless. We invite all new mothers who need some help to book in to try our Lightforce laser which is the only one in Northamptonshire and available here at Wellbeing Chiropractic Health Centre.
We are located at The Granary, Blisworth Hill Farm, Stoke Road, Blisworth, NN7 3DB, which is a beautiful business park very close to Northampton. You can book your laser session online at www.wellbeing-chiropractic.co.uk
You can contact us at [email protected]
Or call us 01604 422488
References:
1) Efficacy of Low-Level Laser Therapy in Relieving Nipple Pain in Breastfeeding Women: A Triple-Blind, Randomized, Controlled Trial Kelly Pereira Coca 1, Karla Oliveira Marcacine 2, Mônica Antar Gamba 2, Luciana Corrêa 3, Ana Cecília Corrêa Aranha 3, Ana Cristina Freitas de Vilhena Abrão 2
Laser Therapy for breastfeeding mothers